ENQUIRE
If you have any questions, please just ask
Owner: Feel free to contact us if you have any questions or would like to make a reservation so that YOU can learn to Speak Spanish!

Owner: Sary Leticia Muñoz de Leon
Phone: (+502) 56884694
Email: xelacervantes@gmail.com
---
How to find us
Guatemala borders Mexico to the south. Xela (Quetzaltenango) is located in the midwest portion of Guatemala. There are two easy ways to get to Xela:
From Guatemala City
Many major airlines offer flights into Guatemala City. At the airport "La Aurora" simply take a taxi or bus to one of the many 1st class bus line terminal offices. They are all located just a few minutes from the airport. Here are the names of a few. Autopullmans Galgos, Fuente del Norte, Linea Dorada or Transportes Álamo
First class to buses to Xela run from 6am and continue every hour until 7:30pm. The cost of a ticket is Q65 and up one way. (US$1=Q7.3) The ride takes between 4 and 5 hours depending on the driver and is pleasurable and scenic.
If you're on a budget, you might consider taking one of Guatemala's famous "chicken buses" for Q40 one way to Xela. These busses are world famous for the number of people they can cram inside. It is absolutely incredible!!
From Mexico
Most international flights will have you arriving in Mexico City. From Mexico City you take a domestic flight (about 2 hours) to Tapachula. It is best to take the morning flight to Tapachula otherwise you will need to spend the evening there. The airport in Tapachula is located about 20 minutes outside the city. Next, take a taxi from the Tapachula airport to the sleepy Mexican border township of Hidalgo. It is a short walk from Hidalgo to the Guatemalan township Tecún. You need to be in a bit of a hurry as the last bus to Xela leaves at 4pm. The bus terminal in Tecún is about 5 minute walk from the border.
Another option if you are coming from México, convenient but more expensive could be to arrange private transport first class from a travel agency. Departure city San Cristóbal, the cost is approximately $40US.
Direct busses to Xela are plentiful beginning in the early morning and finishing in the early afternoon around 4pm. Look for the word "Xela" painted on the windshield. Unfortunately, there are no first class buses on this route. So be prepared for a flavorful ride. The trip takes between 3 and 4 hours and is scenic.
When in Xela
Upon arriving in Xela simply take a Uber or take a taxi. Taxis are normally in front of any bus station. A taxi will charge you around Q 35- Q45.
If you have a cellphone with you make sure you install the Uber app. A Uber charges around Q20.
Uber for Android
Uber for iOS
Miguel de Cervantes School of Spanish is five minute walk from Bolivar park/20mins walk from central park. Just head east from central park. See the map

How to find us
Take into account that most navigation apps won't show all the streets near Cervantes Spanish School since we locate inside a residential area.
❌ The following image shows the wrong route to get to school.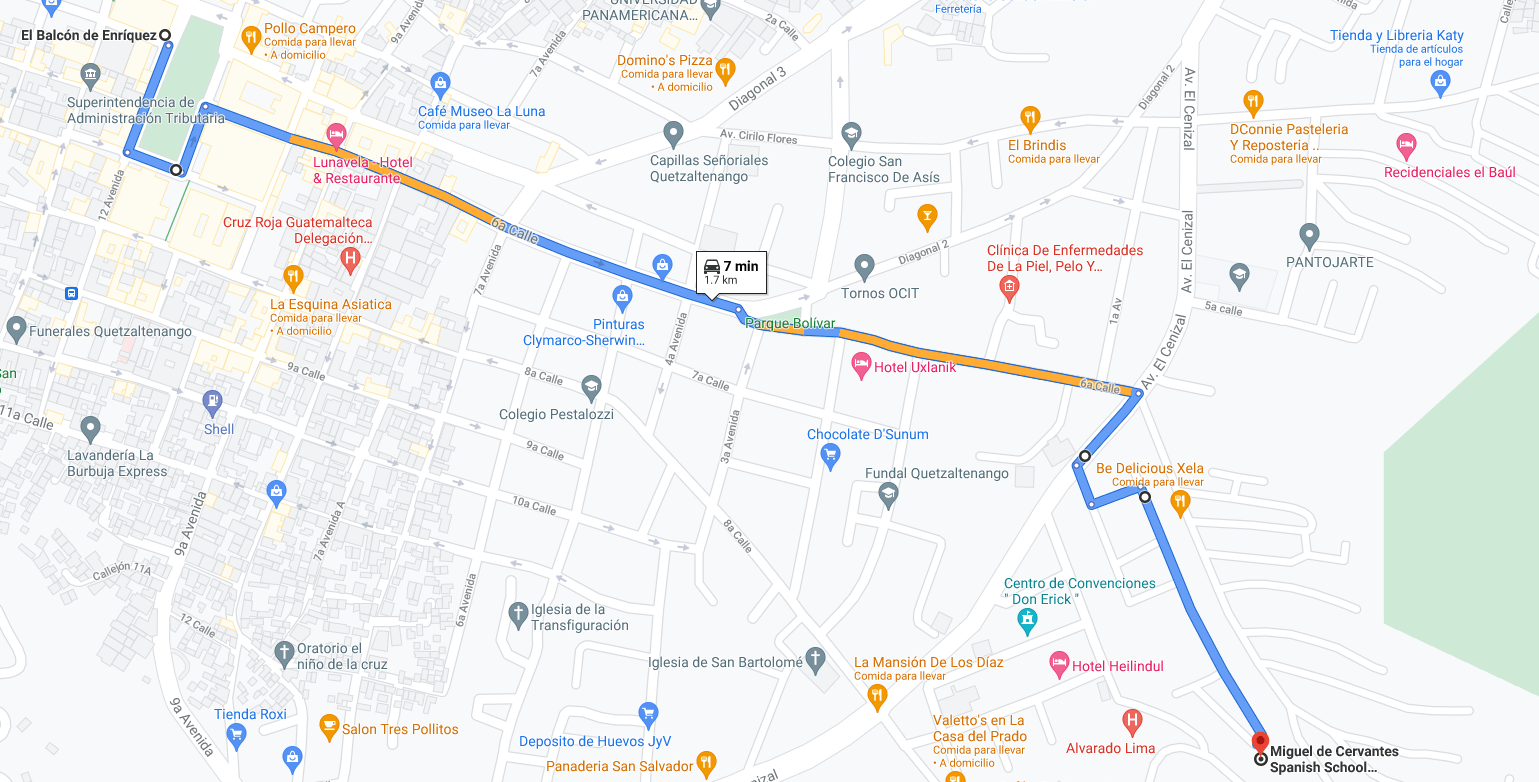 ✅ The image below shows the correct route to follow.